What do the pros have to say about Diamondback™? Scroll down for a few video and written reviews of our products.
Tools of the Trade
https://www.toolsofthetrade.net/safety-workwear/tool-belts-and-vests/real-deal-review-diamondback-701-tool-vest_o?utm_source=newsletter&utm_content=Article&utm_medium=email&utm_campaign=TOTT_071619&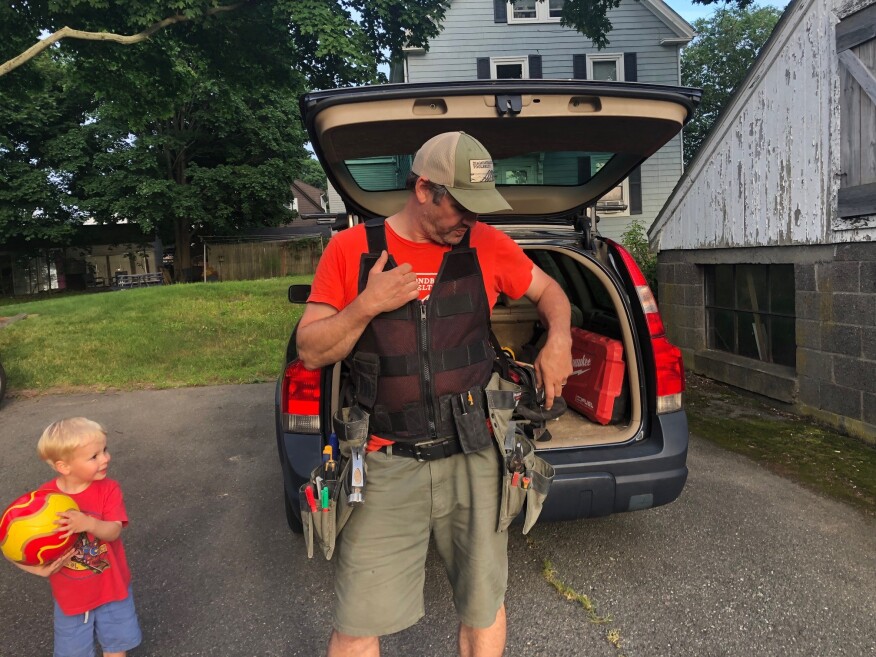 "Throughout the review process, I have noticed a number of things. For starters, the 701 vest is remarkably cool. The mesh breathes incredibly well and I have yet to feel like it is heating up my body as I work. (That was one of my primary concerns about wearing an extra layer of fabric on my upper body.) Second, the adjustment straps held their position extremely well. This includes changes in weight and the size of bags and storage I was using. From bent-over positions to kneeling to reaching above my head, the fit adjustment stayed true. Finally, I was not just impressed, but actually surprised by how well the weight is distributed. Regardless of what I was packing, from a framing setup to a finish setup, the 701 vest carried and distributed the load to near perfection."
---
"The 6" belt pad is extremely comfortable and offers a good amount of support. The Deluxe suspenders are quite nice and a new part of the Diamondback™ tool belt system. They have padded shoulder straps and are extremely easy to adjust.
My overall outlook on the Diamondback™ Tool Belt Denali setup is definitely a positive one. It is a very well made, comfortable. It truly is an impressive and well thought out setup, and I definitely recommend them."
---
"If you have been searching for a comfortable tool belt that features plenty of storage and long lasting durability then stop here and go get yourself a Diamondback™ Toolbelt.  I honestly could not find any downfall to the Diamondback™ Denali Toolbelt Set.  My only word of advice for a future purchaser is if you carry quite a few tools during your work day, invest in the suspenders to go with them.  The design of the belt matched with a set of suspenders will by far make the Denali Set the most comfortable tool belt you have owned."
---
Pro Tool Reviews
https://www.protoolreviews.com/tools/storage-organization/diamondback-toolbelts-denali-deluxe-suspenders-rig/33712/
"The Diamondback™ Toolbelts Denali and Deluxe Suspenders Rig is for tradesmen who need a lot of tools close at hand and don't mind carrying a little extra weight if it means they can be organized and efficient on the job. Trim carpenters, framers, and roofers come to mind, but that's certainly not an exhaustive list. The modular nature allows you to tailor it to specific trades. It might not be for a beginner or apprentice but then again, the customizable design means an apprentice could start small and add to the rig as he or she gains experience and skill. Diamondback™ even has a pouch for delicate things like your phone and glasses."
---
Tools of the Trade
http://www.toolsofthetrade.net/safety-workwear/tool-belts-and-vests/diamondback-denali-toolbelt_o
"Bottom Line. As I stated in my previous review, "I frame five days per week and would rather buy a top-quality tool belt and keep it 'forever.'" So I have no problem spending a decent amount of money on a belt like this because it is going to hold up. That said, I would minimize the add-on accessories and stick with only what you need. The hammer holster seems to me like a "must-have" option because it keeps the hammer from banging against my leg, knee, or backside like other locations do on bags I've worn."
---
JLC Online
https://www.jlconline.com/products-tools/hand-tools/custom-toolbelt_o?utm_source=newsletter&utm_content=Article&utm_medium=email&utm_campaign=JLC_052619&/33712/
"If you haven't seen Diamondback's immutable reach into the toolpouch-wearing trades, then you must genuinely be off the grid. These guys are everywhere, it seems, and using social media to more than just megaphone, "Hey, we have a new product; hey, we have a new product." The company is using it to inform itself on how to build belts and services that it thinks can help its customers—us. "
---